Fact checking Practice Centre content
Once we've restructured and edited the content, our subject matter experts need to review it to check it's correct and complete before we publish it on the new site.
Using GatherContent
We use GatherContent to manage all our content. It's an online tool that helps us:
keep everything together in one place
track revision history
manage workflow and approval
load approved content easily onto the site.
Signing in
If you've been asked to fact check a page and you haven't used GatherContent yet, you'll get an email inviting you to create an account.
Log in and click on 'Practice Centre'.
You'll see all the pages assigned to you to review.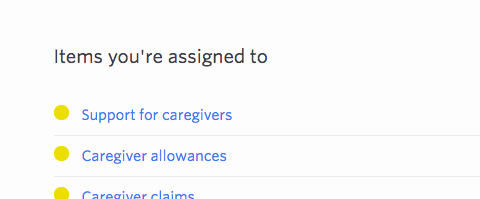 Reviewing a page
Once you've signed up to GatherContent, we'll send you a link to some content in GatherContent for you to review. You'll notice some things when you're on the GatherContent page:
Links may not work — we indicate links within the Practice Centre with the text [LINK] followed by the name of the page, such as '[LINK]Policy: Assessment'. If you have questions about where a link goes, leave a comment on the link.
Ignore any instructions in square brackets — these are for internal use. In most cases, they indicate accordion content or images or diagrams that need to be added when we load the content into the website's content management system (CMS).
The content doesn't look like a website yet. It will once it's loaded into the CMS.
Resources (downloadable PDFs, templates or documents that will appear on the page) are loaded in the 'assets' box below the main content.
The source content for the page is under the tab 'source content' at the top of the screen. You can use this to refer back to what the current Practice Centre says.
How to give feedback
Highlight text and click the speech bubble at the far right to add a comment against that piece of text.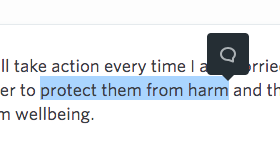 Write your comment into the box and press the blue button.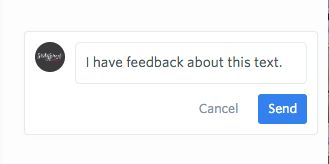 To leave a reply to another comment, click on the comment and type your reply into the box that appears. Press send when you're done.
You can send a comment to a particular person by typing @ and then the first letters of their name. (They'll need to have a GatherContent account.)
What to give feedback on
We want your feedback on the facts rather than the style of writing. The content has been styled according to our style guide, which ensures that the writing is in plain language and we're following best practice for writing on the web.
Please highlight:
anything that's missing or you think should be added (please note whether this needs to be done before the content is made live on the website, or whether it could be added at a later date)
anything that is or might be incorrect, and how to correct it — just provide us with the facts in bullet points or a few sentences and we'll rewrite the information to fit
any links to other content (on the Practice Centre or elsewhere) that should be included
any questions you have.
You may also find we've put questions for you in the comments. Please reply to these comments.
If you think someone else should review the content
Let us know their name and email address. We'll send them an email so they can create their own GatherContent account.
When you're finished leaving comments
If you have no feedback on a page, leave a comment saying 'No feedback on this page'. That way we can track that everyone has reviewed each page.
Please let us know if you won't be able to finish reviewing the pages assigned to you by the deadline you've been given.