Our practice approach
Our practice approach is framed by te Tiriti o Waitangi (the Treaty of Waitangi) and supported by a mana-enhancing paradigm for practice and draws on Te Ao Māori principles of oranga (wellbeing).
Tohu for Oranga Tamariki practice
Tohu have been used by Māori through the generations to convey meanings of significance.
View full size image (PNG 141 KB) Download image (PNG 141 KB)
[bird sounds, water sounds and music]
Ko te reoreo a kea ki uta
Ko te whakataki mai a toroa ki tai
He kōtuku ki te raki
He kākāpō ki te whenua
Our manu have many voices within their respective domains. In their place and time, they use these to collectively call out their destiny.
It's our destiny, place and time to unify our voices for advancing the oranga of all tamariki/mokopuna, children, whānau and families in Aotearoa New Zealand.
The overall design of the tohu represents a Toroa (Albatross) within the stylised shape of the Puhoro. All ancient kōrero detail the sighting of manu as a sign that landfall is near. This kōrero aligns with us coming together united upon our waka, to head in the same direction, on the same course to new beginnings and challenges. The Toroa also represents to soar to great heights, to compete and to succeed.
The Puhoro pattern represents the movement and displacement of water as our waka moves forward into the future, as well as the movement and displacement of air as the Toroa is in flight. With this, we acknowledge that at times there will be great resistance and turbulence.
Within the eye of the Toroa is a white Pītau. This represents te tamaiti and our concentrated focus, our practice lens. Emanating from the eye are 4 ovals woven side by side, representing our aspiration for partnered practice. These represent from the centre: whānau (inclusive of whānau whānui – extended family), hapū, iwi, village, Oranga Tamariki and those who we work alongside.
The pattern on the outer side of the eye is the Raranga pattern (the weave). It represents our binding, our strength and resilience. The imagery on the inner side of the eye is a stylised feather. This reminds us that a korowai always begins with the first feather.
The pattern at the top of the Toroa is Waewae Toroa (the footprint of the Toroa). This represents the spiritual residue of those who have been before us.
The mirrored image creates the tail of a Tohorā (whale), representing the ability to navigate long distances as well as the ability to traverse great depths and to move within a safe close distance to the shallows. The Tohorā also represents the inner strength and resilience required to sustain us through the many challenging journeys ahead. The left imagery represents Te Taha Tane, the right represents Te Taha Wahine. The triangles at the centre represent maunga and whare.
[whale sounds]
With respect to ancient kōrero of many cultures of our world, the Tohorā reminds us that before mankind walked upon the land and before the lands rose from the sea, this was the domain of the Tohorā.
By looking back, we anchor to the past learning, this is our place and time to advance the oranga of all tamariki and whānau.
Core elements of our practice approach
Our approach helps us work more effectively with tamariki and whānau Māori. However, the mana-enhancing paradigm and Te Ao Māori principles of oranga (wellbeing) are relational, inclusive and restorative, and therefore have benefits for all children and families.
A mana-enhancing paradigm for practice recognises that it is possible to undertake our challenging and complex mahi in a way that is respectful, relational and restorative. The mana-enhancing paradigm has a strong foundation in social work practice in Aotearoa New Zealand and embodies 5 core components:
Te Ao Māori is valuable knowledge – it helps guide and enhance our relationships with tamariki/mokopuna, rangatahi and whānau.
The significance of history – through which underlying and intergenerational trauma and resilience can be understood.
Valuing narratives as cultural identity helps to understand what tamariki/mokopuna, rangatahi and whānau experience, value, identify and connect with.
Māori concepts of wellbeing are critical to understanding, maintaining, restoring and strengthening oranga.
Principled practice means knowing and understanding the influence of who we are, and why we think and behave the way we do in our practice.
Māori-centred social work practice | orangatamariki.govt.nz
Te Ao Māori principles of oranga (wellbeing) are central to Oranga Tamariki social work practice. They help us understand the journey of oranga for all tamariki, families, whānau, hapū, iwi and family groups we work with.
How we are approaching our practice
We are moving from a predominantly western, eurocentric practice position to a Māori-centred position. This involves:
supporting and developing our kaimahi to embrace our practice approach
enabling Oranga Tamariki systems to support our practice approach and reduce inequities
enabling our partners to practise effectively with tamariki, whānau, hapū and iwi.
Our practice approach sits within a continuum of approaches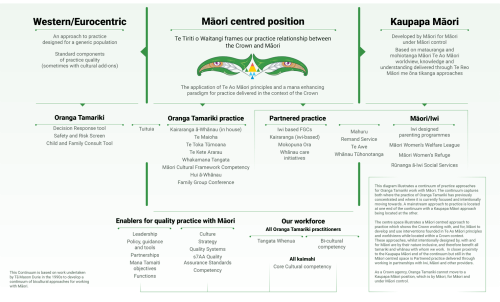 View full size image (PNG 658 KB) Download image (PNG 658 KB)
This diagram illustrates a continuum of practice approaches for Oranga Tamariki work with Māori. The continuum captures both where the practice of Oranga Tamariki has previously concentrated and where it is currently focused and intentionally moving towards. A mainstream approach to practice is located at one end of the continuum with a Kaupapa Māori approach being located at the other.
The mainstream approach is labelled 'Western/Eurocentric' and described as an approach to practice designed for a generic population, with standard components of practice quality (sometimes with cultural add-ons). Oranga Tamariki has the decision response tool, safety and risk screen and child and family consult tool.
Tuituia is located in the diagram between the mainstream approach and the Māori-centred position, as are the following enablers for quality practice with Māori:
leadership
policy, guidance and tools
partnerships
mana tamaiti objectives
functions
culture
strategy
quality systems
section 7AA quality assurance standards
competency.
The centre space illustrates a Māori-centred approach to practice, which shows the Crown working with, and for, Māori to develop and use interventions founded in Te Ao Māori principles and worldviews while located within a Crown context. These approaches, while intentionally designed by, with and for Māori, are by their nature inclusive and therefore benefit all tamariki and whānau with whom we work. The wording used in the diagram is:
Māori-centred position
Te Tiriti o Waitangi frames our practice relationship between the Crown and Māori
The application of Te Ao Māori principles and a mana-enhancing paradigm for practice delivered in the context of the Crown.
Also in the centre space is the following list of Oranga Tamariki practice:
Kairaranga ā-whānau (in house)
Te Maioha
Te Toka Tūmoana
Te Kete Ararau
Whakamana Tangata
Māori Cultural framework Competency
Hui ā-whānau
Family group conference.
In closer proximity to the Kaupapa Māori end of the continuum but still in the Māori-centred space is partnered practice delivered through working in partnerships with iwi, Māori and other providers. The list under 'Partnered practice' includes:
Iwi-based family group conferences
Kairaranga (iwi based)
Mokopuna Ora
Whānau care initiatives.
The following list sits between the Māori-centred position and Kaupapa Māori:
Mahuru
Remand Service
Te Awe
Whānau Tūhonotanga.
As a Crown agency, Oranga Tamariki cannot move to a Kaupapa Māori position, which is developed by Māori, for Māori and under Māori control and based on mātauranga and mohiotanga Māori Te Ao Māori worldview, knowledge and understanding delivered through te reo Māori me ōna tikanga approaches. The following list sits under the heading 'Māori/Iwi' in the Kaupapa Māori space:
Iwi-designed parenting programmes
Māori Women's Welfare League
Māori Women's Refuge
Rūnanga ā-Iwi Social Services.
This continuum is based on work undertaken by Tā Mason Durie in the 1990s to develop a continuum of bicultural approaches for working with Māori.
Can't find what you're looking for? Try the search bar or view policies.