Personas and behaviours
We use 3 personas to help us structure and write our content. The fictional characters were developed after research with Oranga Tamariki staff that showed 3 modes of behaviour — finding facts, exploring process, and growing knowledge and practice.
Persona 1. Fact finder
In this mode, staff need a specific, precise answer to a question. They don't have time to mess around, and failing to find what they need or seeing too much information on the page leads them to give up and ask someone else.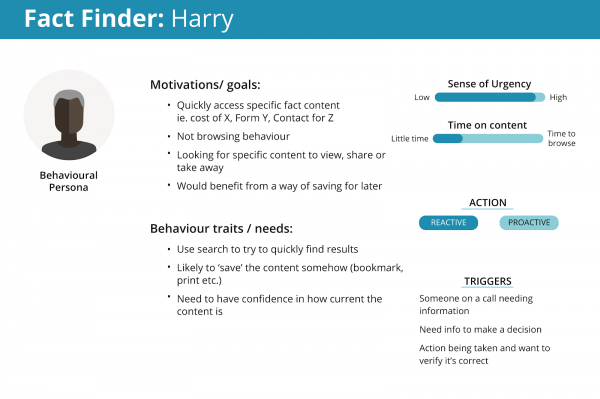 Download Fact Finder Harry image (PNG 191 KB)
Fact Finder Harry
Motivations and goals:
Quickly access specific fact content, such as the cost of X, form Y, contact for Z.
Not browsing behaviour.
Looking for specific content to view, share or take away.
Would benefit from a way of saving for later.
Behaviour traits and needs:
Use search to try to quickly find results.
Likely to 'save' the content somehow (for example, bookmark, print).
Need to have confidence in how current the content is.
High sense of urgency.
Little time to browse.
Reactive.
Triggers:
Someone on a call needing information.
Need info to make a decision.
Action being taken and want to verify it's correct.
Persona 2. Process explorer
In this mode, staff are interested in seeing the bigger picture of what they're doing — how does the information connect together, and what order do things go in?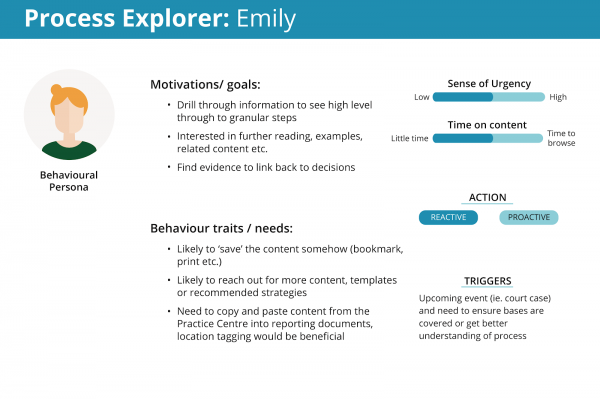 Download Process Explorer Emily image (PNG 208 KB)
Process Explorer Emily
Motivations and goals:
Drill through information to see high level through to granular steps.
Interested in further reading, examples, related content, and so on.
Find evidence to link back to decisions.
Behaviour traits and needs:
Likely to 'save' the content somehow (for example, bookmark, print).
Likely to reach out for more content, templates or recommended strategies.
Need to copy and paste content from the Practice Centre into reporting documents. Location tagging would be beneficial.
Medium sense of urgency.
Some time to browse.
Reactive.
Triggers:
Upcoming event (such as a court case) and need to ensure bases are covered or get better understanding of process.
Persona 3. Knowledge grower
In this mode, staff have time to digest a larger volume of information, but they're still reading on a screen, and they can't spend all day searching for information.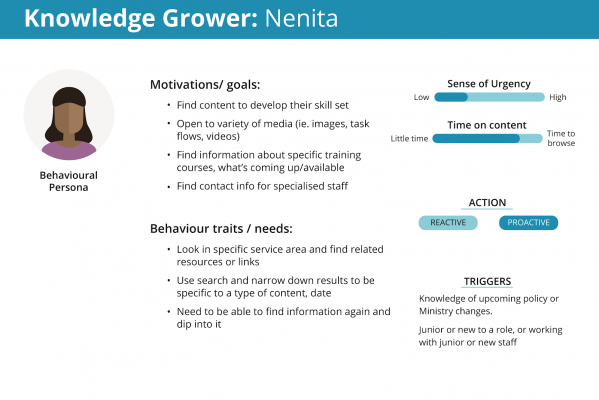 Download Knowledge Grower Nenita image (PNG 215 KB)
Knowledge grower Nenita
Motivations and goals:
Find content to develop their skill set.
Open to variety of media, such as images, task flows, videos.
Find information about specific training courses, what's coming up or available.
Find contact info for specialised staff.
Behaviour traits and needs:
Look in specific service areas and find related resources or links.
Use search and narrow down results to be specific to a type of content, date.
Need to be able to find information again and dip into it.
Low sense of urgency.
Some time to browse.
Proactive.
Triggers:
Knowledge of upcoming policy or Ministry changes.
Junior or new to a role, or working with junior or new staff.
Using the personas
We use the personas to interrogate content and check it meets the needs of each mode of behaviour.
Consider what each persona might be looking for in relation to a topic.
Can you find the information?
Is it clear?
What might be confusing or missing as you look at the information with each persona's hat on?
Example – For supervision agreements:
Fact Finder Harry — what must a supervision agreement contain?
Process Explorer Emily — what's the process for creating a supervision agreement?
Knowledge Grower Nenita — are there links to more information?
Other audiences
We write our content for staff within Oranga Tamariki.
We also consider that our content may be read by:
the children's workforce outside of Oranga Tamariki (including government agencies and NGOs)
caregivers and whānau or family
members of the community who are concerned about a tamaiti, like teachers or iwi
tamariki we're working with.